Mitsubishi Electric in Middle East & Africa
CSR
Good corporate citizenship is an integral part of everything we do.
We place our responsibilities as a good corporate citizen at the core of our corporate management. As we contribute to the creation of a prosperous, comfortable and sustainable society, we're focusing on ethics and compliance, quality, environmental protection, philanthropy and improved communication.
Green Riyadh
MELSA is a firm supporter of the Kingdom of Saudi Arabia's effort in all of their missions & vision. "Green Riyadh" is a project which aims to reduce carbon dioxide and heat by planting trees. Therefore, MELSA takes pride in its employees for participating to plant as much trees in all of its Kingdom regions as part of their social contribution to society. Hand in hand, MELSA employees have planted 30 trees in their different regions, such as, Jeddah in a famous landmark area on King Road, Dammam, Riyadh and last but not least 150 trees in the hills surrounding the holy city of Makkah. We, at MELSA confidently believe that each one of us can and will make a change in making this planet as clean and green as it can be and will be for a better life.
Plant a Tree in Riyadh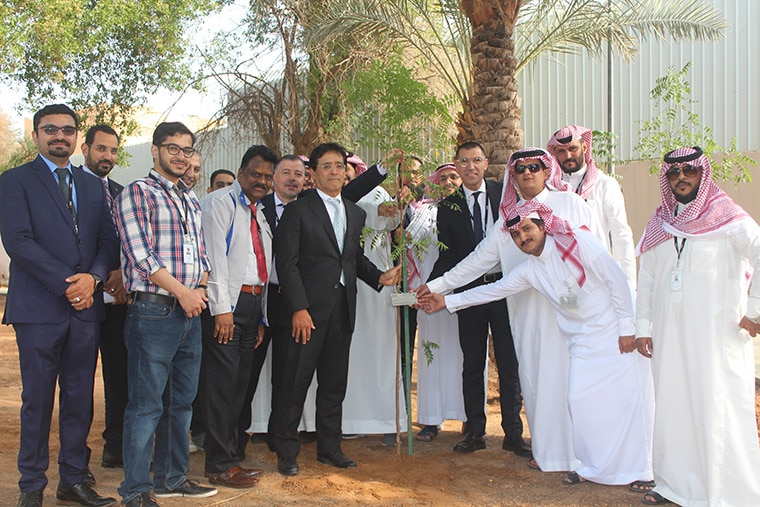 Mitsubishi Electric Saudi LTD. (MELSA) unveiled its first Corporate Social Responsibility activity "Plant a Tree" in a nearby Public garden in Riyadh in the 22nd of November, 2018. A majority of MELSA first line managers lead by MELSA President Tanaka san attended this event that end up with planting 10 Neem trees that been labelled with stainless plaques include tree number, date of planting and the Corporate Logo. All attendees were delighted with this action that falls under "for a greener tomorrow".
AG-MELCO makes donation to the victims of the Kumamoto Earthquake
On 3rd May 2016 Mr. Takeshi Arai, Deputy Managing Director & Mr. Jagannadh Burusu, General Manager of Human Resources visited the Consulate-General of Japan in Dubai and handed over a donation of AED 2,000 (equal to approximately JPY60,000) to Mr. Hisashi Michigami of the Consul general. Management and staff at AG-MELCO Elevator Co. L.L.C extend their condolences to victims of the disaster and hope for a swift recovery in the region.