Mitsubishi Electric Around the World
Special Event Scotland
Pitching in to Fight the Pandemic
Mitsubishi Electric – Livingston
James Cox and Mhairi Mallon both work for Mitsubishi Electric in Livingston, Scotland, home of Mitsubishi Air Conditioning Europe (M-ACE). James is a Logistics Operative who operates a forklift, loading out products for delivery to sales offices. Mhairi is a Production Engineer who has led the design and installation of a new production line for the past two years.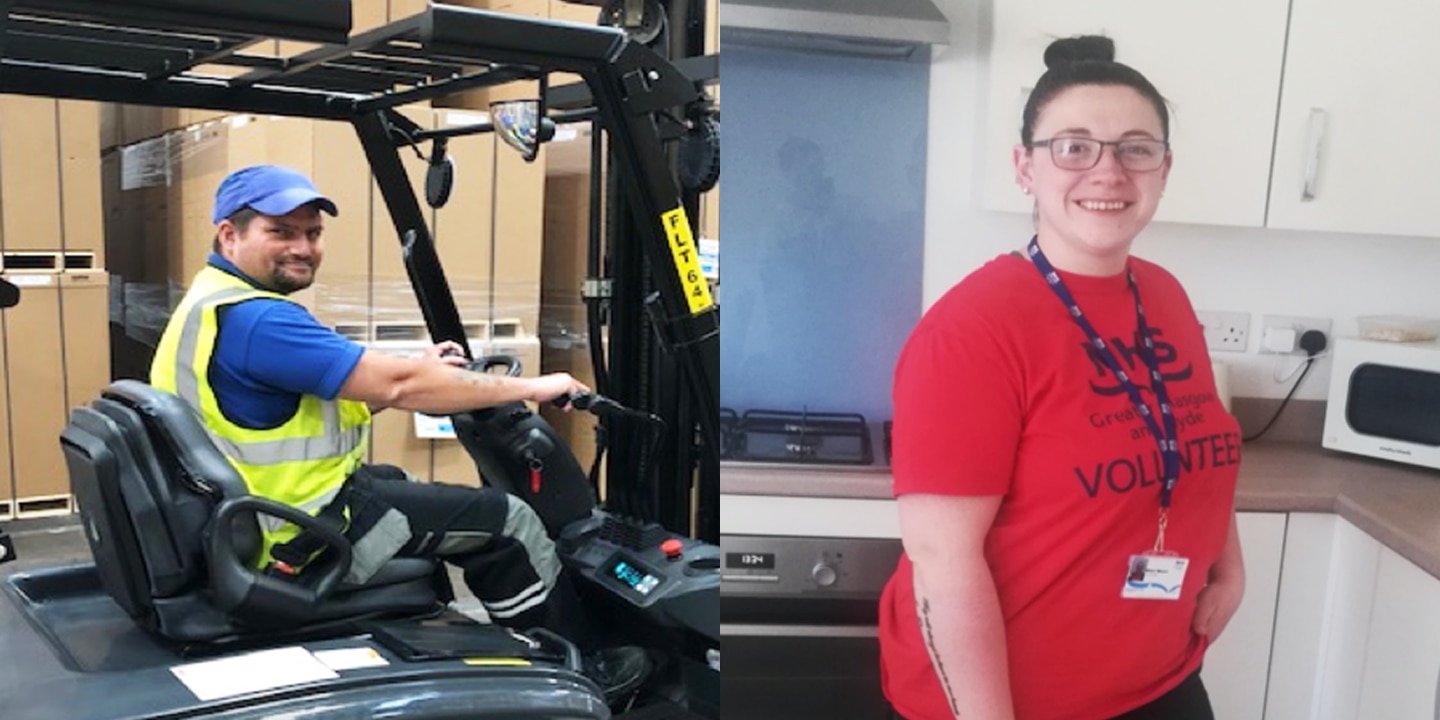 Both of them had their lives disrupted because of the global pandemic of COVID-19. On March 23, 2020, the UK government announced a lockdown. This closed all Mitsubishi Electric manufacturing sites, and the vast majority of employees were put on furlough to allow them to maintain their jobs and keep them safe.
While on furlough, James decided to do something worthwhile, and his wife encouraged him to join the Livingston Roundtable, a local nonprofit group. He now serves as the group's treasurer and along with other fellow volunteers, has delivered over 5,500 meals to people in need, recycled short-dated supermarket stock to local foodbanks, and provided personalized PPE and hand sanitizer to the West Lothian area.
Meanwhile, Mhairi volunteered at Glasgow Royal Infirmary. On three or four days each week, she delivered PPE to wards, made and took care packages to patients, and set up video calls between patients and their families, some of whom had been separated for more than six weeks.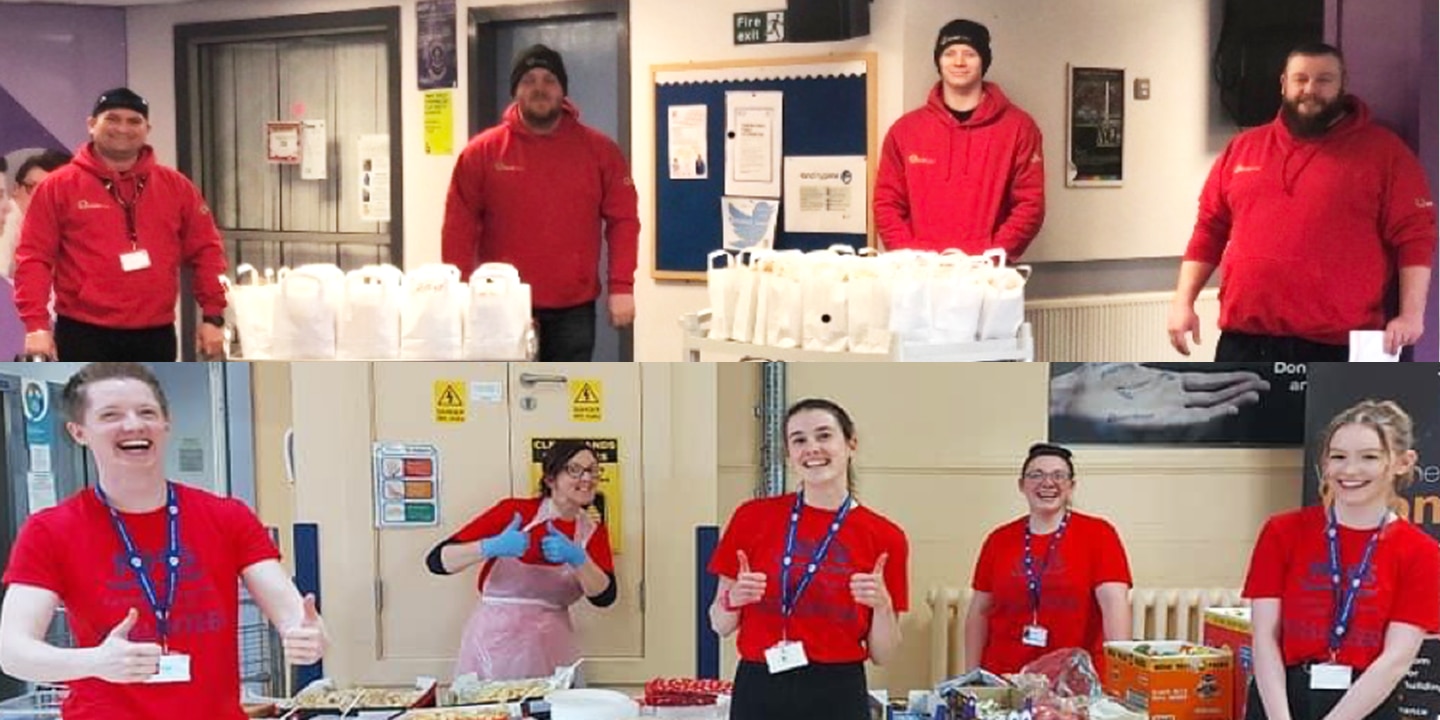 Above:James (far left) preparing to deliver meal packages to elderly and vulnerable families throughout West Lothian.
Below:Mhairi (second from the right) at her volunteer work
Staff at M-ACE continued to monitor the situation and kept a watchful eye on government guidelines and advice to ensure the factory was as safe as possible when it was time for reopening, and potential for the transmission of disease were kept to an absolute minimum.
When Mhairi was called back to work, she helped prepare M-ACE for when the lockdown was ended. She and other engineers set up the factory to meet social distancing guidelines. The key was maintaining a two-meter distance between workers.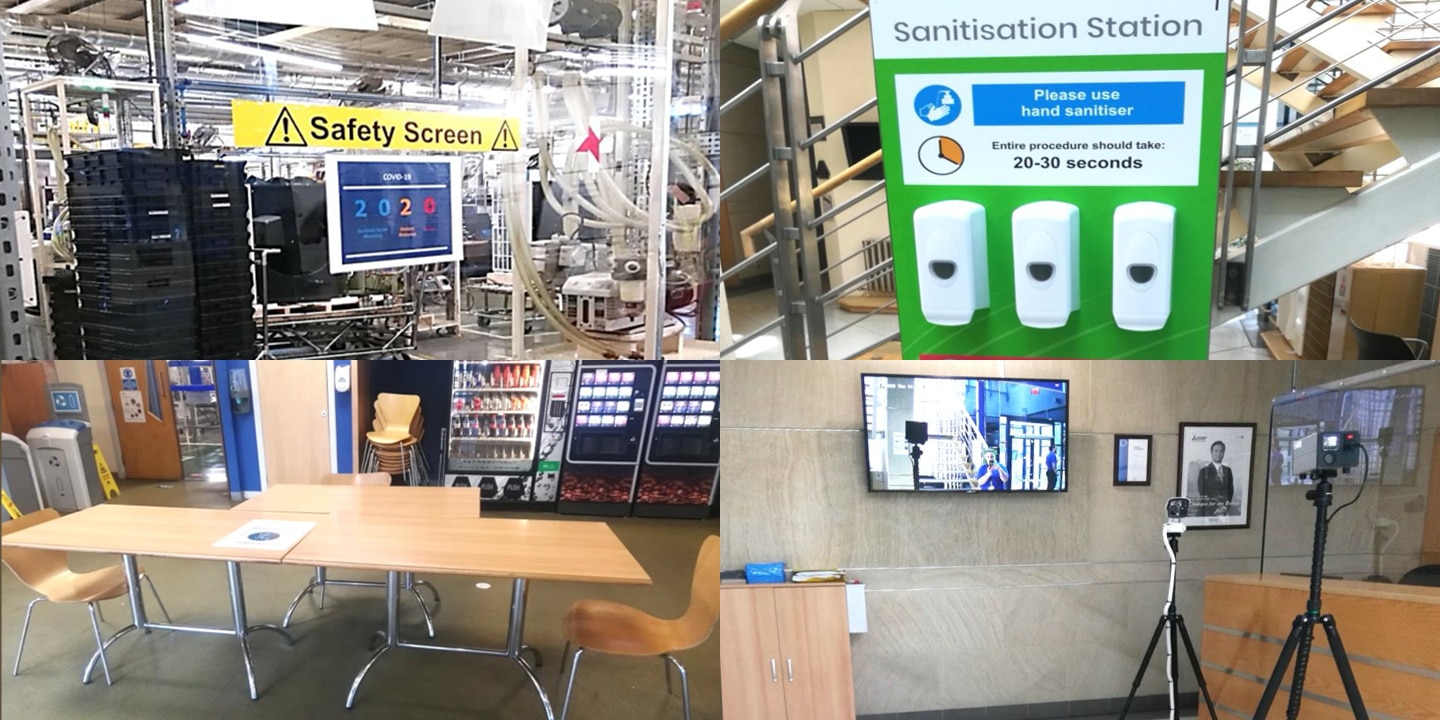 Upper left:Clear Perspex plastic guard used as hard divider between operators
Upper right:Hand sanitizing station
Lower left:Canteen seating area
Lower right:Temperature operating system
On the fifth of May, production resumed at the factory in Livingston. Nearly 500 employees like James returned to work and began operating under the new guidelines. While the new system took some time to adjust to, the line was able to produce 163 units in the first 24 hours it was open. It is a huge challenge to comply with government guidelines while meeting production requirements and maintaining high standards, but everyone is united in making that goal a reality.
James and Mhairi both found a lot of meaning in their volunteer work during the furlough period. While it was a stressful time, doing what they could to help others who weren't as fortunate as them bolstered their spirits. The sense of pride and achievement, along with the gratitude they received made everything seem worthwhile.
During terrible events like these, it's important to see that people around you care and are willing to make their best effort to see everyone is safe and secure. At the same time, looking to the future is also crucial. We must hold onto hope that the troubles we face will end, but also make preparations and maintain vigilance so that they do not occur again.
---
For more information